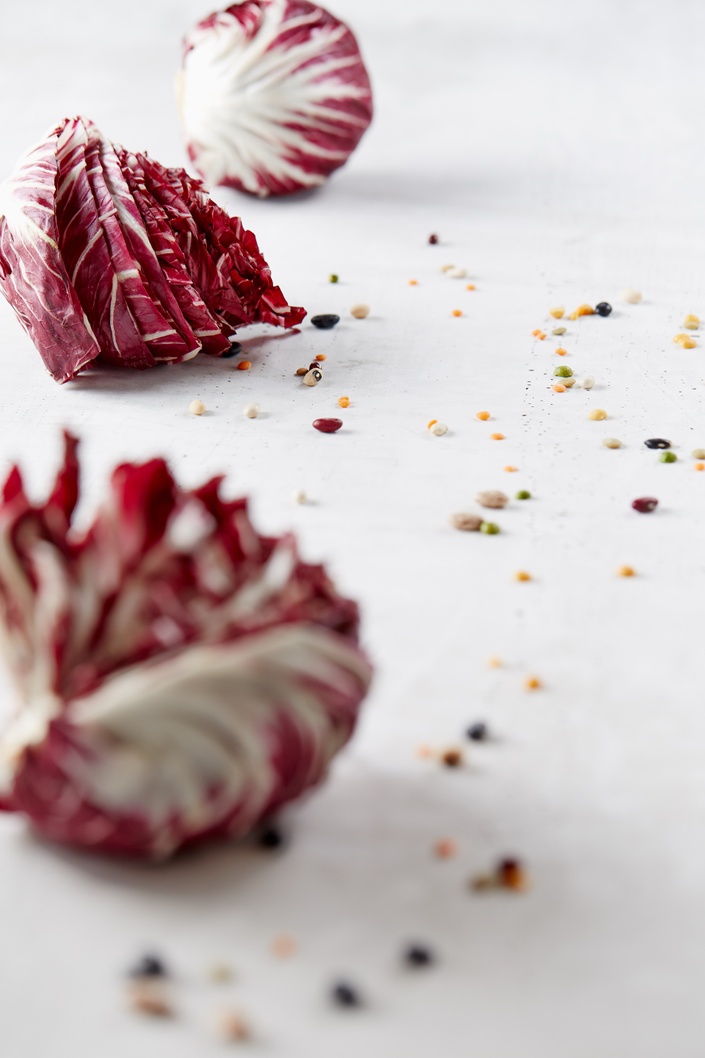 The Genomic Kitchen Professional Course (GK PRO)
The Genomic Kitchen Course for Nutrition and Healthcare Professionals
Enroll in Course
A revolutionary course designed to ignite change in food thinking.
Available as a self-study course June 2019.
Help your clients live their best expression. The Genomic Kitchen Professional course provides in-depth insights into the nutrition science and educational strategies that make the concept of Culinary Genomics both revolutionary and essential to health professionals.
In this course, you will gain an understanding of the fundamentals of nutrigenomics and culinary genomics and how to use them in education and counseling in the private practice, community or institutional setting. This course will introduce you to the extensive evidence-based science behind the Genomic Kitchen's M.I.S.E. ingredient toolbox and how its ingredients optimize information for human genes, human health and longevity. Learn how food-gene interactions can influence and mitigate oxidative stress, inflammation, detoxification (biotransformation), immune response and key biochemical processes in the body. With nutrition science in hand, discover how to work with key ingredients in the kitchen to optimize the information they provide to genes and subsequently health.
Throughout the course learn how to translate nutrigenomics and culinary applications for the public in comprehensive and actionable ways, with or without genomic test information.
Parallel to the science, we review relevant components of the public Genomic Kitchen course and supporting educational materials to enhance your understanding of how we're teaching the public about genes and genomics, why we're teaching it and some of the questions they may have for you.
As professionals, you also receive our signature nutrition education roadmap visuals that support learning and counseling. Detailed scientific references accompany course visuals, and an extensive supplemental reading guide is also included. This course also presents options to teach this program live in your community, or refer your clients to our online program. Take this course if you are interested in learning about the basics of nutrigenomics and how you can apply them today with your clients.
The Genomic Kitchen PRO course is taught by:
Amanda Archibald, RD: Nutrigenomics, Nutritional biochemistry, Food Science, Culinary Translation, Nutrition Education
"I am just amazed and thrilled about what I learned from the Pro Course. It was full of new and understandable information. This course was far more educational than the majority of my nutrition classes at the University level. The handouts and tools you made for us are priceless and well made. Thank you again for sharing so much of your incredible and brilliant knowledge. I am grateful."
by Sharon Brack, HHC, AADP, Director of Genetic Nutrition, Advanced Genomic Solutions
Learn
The elements of nutrigenomics and why this field of science is changing nutrition, medicine, culinary translation and public health.
Master Genes: Function, how they influence health, the ingredients that support them
Critical Biochemical Pathways: How they work, why they are important, the role genes and key nutrients play in their function
M.I.S.E. Principals: What they are and how to teach them in clinical practice and public health forums
Step by step pairing of science and ingredients to concepts taught in The Genomic Kitchen courseindividuals
No genomic test or prior knowledge of nutrigenomics is required for you to learn and apply these principles.
Elevate your practice and expertise to teach at the cutting edge of nutrition, medicine and the culinary arts.
Your Course Includes
Cutting edge evidence-based nutrition science
Educational strategies and teaching tools
A master roadmap of ingredients and comprehensive ingredient toolbox
Supportive nutrition roadmap tools
Extensive citations and references; plus additional recommended reading
Access to live online sessions and course recordings
CPE: 16 (complies with 175 activity code for Registered Dietitians)
It's wonderful when someone like yourself merges science with culinary and creativity and creates a new twist on the classic "dish" of culinary nutrition. For me the course bridges my integrative, culinary and biochemical expertise & keeps me excited to continue to grow and learn after 33 years of practice.
by Lisa Dorfman, MS, RD, CSSD, CCMS, LMHC, FAND-The Running Nutritionist® Certified Chef Nutritionist (LDN)
Amanda is AMAZING!!! She succinctly captured the true essence of the science of nutrition, how food works in the body, how to prepare foods and how it works for you! Complete with toolbox, slides and detailed roadmaps to reference again and again! Highly recommended for anyone interested in nutrigenomics!
by Mary Rosen, MS RD
What an information packed course. I absolutely loved it! Not only a wonderful review of information I already knew but many great new gems as well for my Toolbox. I wanted to be able to attend the sessions live, but life had other plans for me. Your generosity to share this information is so refreshing from every angle! Looking forward to your next course offering, whenever that may be. Thank you so much for developing this course. I am spreading the word to my non-functional/integrative RD friends to not miss your next offering of this course. I've told them that they do not know what they are missing!
by Kim McConnell, MS, RDN, LDN, CLT, CFMN
Amanda Archibald is a nationally-recognized nutrition expert (RD) who has been involved in lecturing, teaching and thought innovation for individuals, health professionals, chefs, foodservice operations and corporations since 2003. In 2015 Amanda unveiled the concept of Culinary Genomics in Johannesburg, South Africa (Translational Nutrigenomics Conference) and at The Institute for Functional Medicine International Conference in Austin, Texas. Her "cutting-edge" work uniting science and medicine with the kitchen opened up a new frontier for food, placing genes and the kitchen at the epicenter of healing. In short, a new food and health conversation was ignited.
The concept of culinary genomics shared in this course is currently being piloted on menu at a 5 hospital system in California, with the goal of reshaping food and health knowledge for clinical staff, employees and importantly, patients.
Amanda has taught in more than 100 U.S. locations, Canada, Europe, and South Africa. She is a frequent presenter at health, medical and food-focused conferences. Recent presentations and invites include The Integrative Health Symposium, NYC, The International Neurogastronomy Symposium, KY, Supplyside West, NV and the Bioceuticals Clinical Symposium, Sydney Australia (2019). Amanda is involved in a number of courses for nutrition and health professionals, where she teaches how to combine genomic information with food and the culinary arts to treat complex health issues. She also works with individuals in private practice.
A native European, but naturalized American for more than 20 years, Amanda currently resides in Western Wisconsin next to the mighty Mississippi River.
Course Curriculum
Welcome to The Genomic Kitchen PRO Course
Available in days
days after you enroll
Session One: Introduction to The Genomic Kitchen
Available in days
days after you enroll
Session Two Introduction to Nutrigenomics
Available in days
days after you enroll
Frequently Asked Questions
What is the difference between the Genomic Kitchen PRO course and the Certificate in Culinary Genomics?
The Genomic Kitchen PRO course is our foundation course introducing health experts to the fundamentals of nutrigenomics and culinary genomics from a public health perspective. The Genomic Kitchen PRO course allows experts to learn how we present these concepts to the public using our M.I.S.E. principles. This professional level course includes an introduction to nutrigenomics and culinary genomics and is accompanied by a rigorous review of the science that informs both of these disciplines. The course includes handouts, sample recipes and is supported by extensive scientific references. Experts participating in this course may use materials for education and counseling in private practice. No prior knowledge of nutrigenomics is required. This course, and the public equivalent does not require genomic testing.
The Certificate in Culinary Genomics builds upon the Genomic Kitchen PRO course (required), through 5 additional modules. These advanced modules include case studies so that participants can see how we link the basic concepts of nutrigenomics to the kitchen (culinary genomics). The advanced modules include deeper insights into recipe selection, organization and meal planning using nutrigenomics principles. Advanced modules also include a deeper review of food and nutrition science that informs which ingredients to choose and how to prepare them for optimal food-gene interaction and nutrient utilization.
Is the Genomic Kitchen PRO course required before I take the Advanced Modules to complete the Certificate?
Yes. The PRO course provides you with the fundamentals which we then build upon in the Advanced Modules.
I have taken the Genomic Kitchen PRO course and would now like to complete the Certificate Program. How can I do that?
Please email us so that we can provide you with a discount coupon. This coupon allows you to enroll in the Certificate Program to complete the 5 additional modules for the price difference between the Genomic Kitchen PRO course and the Certificate Program ($196)
How can I use the materials from this course?
You may use any of the handouts and recipes from either the GK PRO or Advanced Modules course to educate your clients in private practice. If you wish to teach the public Genomic Kitchen Fundamentals Course (Public-facing equivalent course), there is an additional fee that licenses you to teach the public course as a live (not online) course. The license fee covers the course materials, all course updates, additional ongoing supporting science and recipes. You will also receive mentoring and have full time access to Amanda for questions and additional support.
Can I refer clients to the public Genomic Kitchen Fundamentals or Express Courses?
Yes, we encourage your referred clients so that we can help the heavy lifting of additional education for you. Please contact us for discount coupons or referral arrangements.