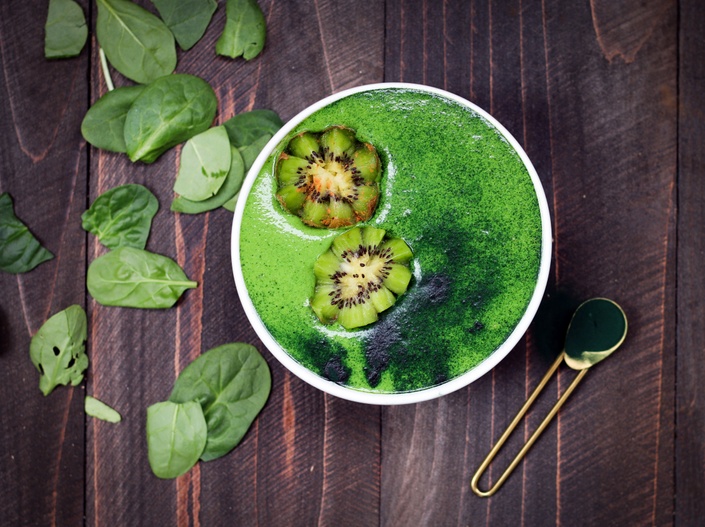 Culinary Genomics Certificate Program (GK PRO Course + Advanced Applications Modules)
Combining the Essentials of Nutrigenomics and Culinary Genomics with Food Science, Meal Planning Strategy and Applied Case Studies
Enroll in Course
The Course You Have Been Waiting For!
Available for self-paced study June 2019
Culinary Genomics uniquely unites the fields of genomic science and nutritional biochemistry with the culinary arts. Our Culinary Genomics Certification Program opens the door for nutrition and health experts to step into this cutting-edge arena and allows nutrition and health experts to apply the very basics of nutrigenomic science and culinary translation in clinical practice and public health education. Prior knowledge of nutrigenomics and genomic test information are not required for this program.
The Genomic Kitchen's Culinary Genomics Certificate Program combines the fundamentals of nutrigenomics and culinary genomics presented in our Genomic Kitchen Pro course with four additional advanced meal planning and culinary application modules that offer deeper insights and advanced applications of culinary genomics for clinical practice or public health education.
CPE: 24: Complies with 175 activity code for Registered Dietitians)
Not sure if you want to enroll in the Certificate program? Take the Genomic Kitchen Pro course first and enroll in on the Culinary Genomics Advanced modules at a later date.
The Culinary Genomics Certificate Program is taught by:
Amanda Archibald, RD: Nutritional Biochemistry, Food Science, Culinary Genomics, Nutrition Education and Culinary Translation
Amanda Archibald is a nationally-recognized nutrition expert (RD) who has been involved in lecturing, teaching and thought innovation for individuals, health professionals, chefs, foodservice operations and corporations since 2003. In 2015 Amanda unveiled the concept of Culinary Genomics in Johannesburg, South Africa (Translational Nutrigenomics Conference) and at The Institute for Functional Medicine International Conference in Austin, Texas. Her "cutting-edge" work uniting science and medicine with the kitchen opened up a new frontier for food, placing genes and the kitchen at the epicenter of healing. In short, a new food and health conversation was ignited.
The concept of culinary genomics shared in this course is currently being piloted on menu at a 5 hospital system in California, with the goal of reshaping food and health knowledge for clinical staff, employees and importantly, patients.
Amanda has taught in more than 100 U.S. locations, Canada, Europe, and South Africa. She is a frequent presenter at health, medical and food-focused conferences. Recent presentations and invites include The Integrative Health Symposium, NYC, The International Neurogastronomy Symposium, KY, Supplyside West, NV and the Bioceuticals Clinical Symposium, Sydney Australia (2019). Amanda is involved in a number of courses for nutrition and health professionals, where she teaches how to combine genomic information with food and the culinary arts to treat complex health issues. She also works with individuals in private practice.
A native European, but naturalized American for more than 20 years, Amanda currently resides in Western Wisconsin next to the mighty Mississippi River.
Course Curriculum
Welcome from Amanda Archibald
Available in days
days after you enroll
Session One: Introduction to The Genomic Kitchen
Available in days
days after you enroll
Session Two Introduction to Nutrigenomics
Available in days
days after you enroll
Frequently Asked Questions
What is the difference between the Genomic Kitchen PRO course and the Certificate in Culinary Genomics?
The Genomic Kitchen PRO course is our foundation course introducing health experts to the fundamentals of nutrigenomics and culinary genomics from a public health perspective. The Genomic Kitchen PRO course allows experts to learn how we present these concepts to the public using our M.I.S.E. principles. This professional level course includes an introduction to nutrigenomics and culinary genomics and is accompanied by a rigorous review of the science that informs both of these disciplines. The course includes handouts, sample recipes and is supported by extensive scientific references. Experts participating in this course may use materials for education and counseling in private practice. No prior knowledge of nutrigenomics is required. This course, and the public equivalent does not require genomic testing.
The Certificate in Culinary Genomics builds upon the Genomic Kitchen PRO course (required), through 5 additional modules. These advanced modules include case studies so that participants can see how we link the basic concepts of nutrigenomics to the kitchen (culinary genomics). The advanced modules include deeper insights into recipe selection, organization and meal planning using nutrigenomics principles. Advanced modules also include a deeper review of food and nutrition science that informs which ingredients to choose and how to prepare them for optimal food-gene interaction and nutrient utilization.
What does the Certificate in Culinary Genomics mean?
A Certificate in Culinary Genomics demonstrates that you understand and can apply the essentials of nutrigenomics to recipe selection, meal planning and meal preparation. Additionally, that you can explain what nutrigenomics is and its relevance to health from a public health perspective.
Is the Genomic Kitchen PRO course required before I take the Advanced Modules to complete the Certificate?
Yes. The PRO course provides you with the fundamentals which we then build upon in the Advanced Modules.
How can I use the materials from this course?
You may use any of the handouts and recipes from either the GK PRO or Advanced Modules course to educate your clients in private practice. If you wish to teach the public Genomic Kitchen Fundamentals Course (Public-facing equivalent course), there is an additional fee that licenses you to teach the public course as a live (not online) course. The license fee covers the course materials, all course updates, additional ongoing supporting science and recipes. You will also receive mentoring and have full time access to Amanda for questions and additional support.
Can I refer clients to the public Genomic Kitchen Fundamental or Express Courses?
Yes, please refer your clients. Contact us if you would like discount coupons or other referral arrangements.